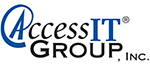 AccessIT Group is your partner in cybersecurity. Our talented team of security experts deliver customized solutions designed to protect your systems and information from increasing security threats. From design and implementation to cybersecurity compliance and training, we provide a single point of contact for all your security needs.
AccessIT Group seeks to differentiate itself by offering a higher level of expertise from engineers and sales staff, all of whose knowledge was derived from real life enterprise deployments. These values have helped AccessIT Group grow to become the first-choice cyber security provider in our region. Today, AccessIT Group maintains sales and service offices in King of Prussia, PA, Mountain Lakes, NJ, New York, NY, Columbia, MD, and Boston, MA.
Visit AccessIT Group in Booth #126 on the Exhibitor Floor!
For more information, visit our website: https://www.accessitgroup.com/
SecureWorld Philadelphia 2019 | #SWPHI19